October 09, 2020, 12:06 AM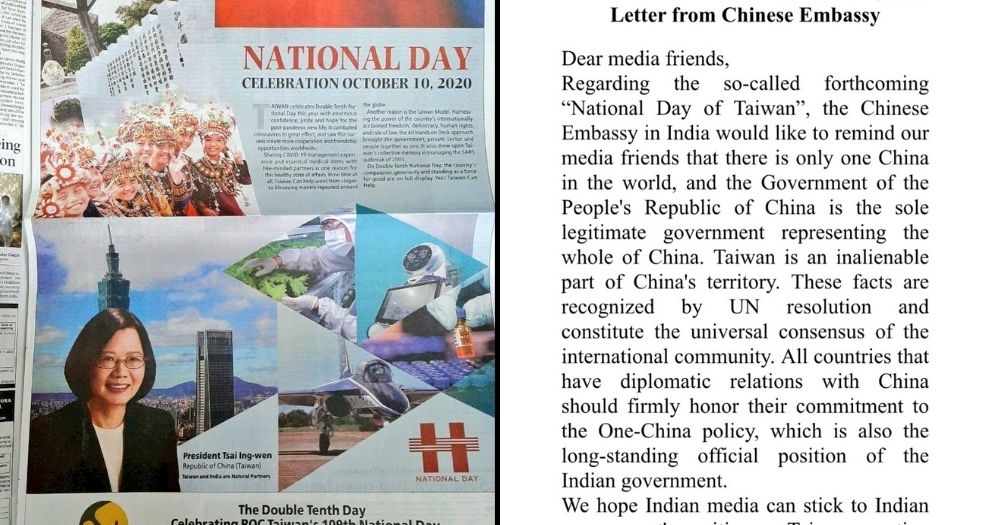 Taiwan has accused China of attempting to impose censorship on Indian media after the Chinese embassy's press department in India sent a letter of "reminder" to Indian journalists on Wednesday, Oct. 7, to adhere to the "One China" principle.
Indian papers run Taiwan's Double Tenth national day ads
Indian newspapers had carried advertisements by the Taiwan administration to mark Taiwan's national day celebration on Oct. 10.
The advertisement featured a photograph of President Tsai Ing-wen, titled as the President of the Republic of China (Taiwan), adding that "Taiwan and India are natural partners".
The ads drew China's ire, prompting the Chinese embassy in New Delhi to issue a reminder to Indian media regarding the reporting of Taiwan's Double Tenth national day.
The Chinese embassy wrote in its letter:
"Regarding the so-called forthcoming 'National Day of Taiwan', the Chinese Embassy in India would like to remind our media friends that there is only one China in the world, and the Government of the People's Republic of China is the sole legitimate government representing the whole of China…

We hope Indian media can stick to Indian government's position on Taiwan question and do not violate the 'One China' principle.

In particular, Taiwan shall not be referred to as a 'country (nation)' or 'Republic of China' or the leader of China's Taiwan region as 'President', so as not to send the wrong signals to the general public."
Taiwan tells China to "get lost"
In response to the advice from the Chinese embassy, Taiwan's Foreign Minister Joseph Wu tweeted a strongly-worded reply, telling the superpower to "get lost".
Wu wrote: "India is the largest democracy on Earth with a vibrant press & freedom-loving people. But it looks like communist #China is hoping to march into the subcontinent by imposing censorship. #Taiwan's Indian friends will have one reply: GET LOST!"
Increasingly-fraught ties between China and India
India-China tensions have been accelerating since 20 Indian soldiers and a Chinese People's Liberation Army (PLA) commanding officer were reportedly killed in a border clash between the two countries in June 2020.
While India does not have formal diplomatic ties with Taiwan, the two have been inching closer amid common tensions with China.
Indian journalist and national security analyst Nitin Gokhale tweeted in response to China's letter to Indian media, likening the Chinese government's behaviour to "a street goon".
Cross-strait tensions
On numerous occasions, China has taken the opportunity to emphasise its "One China" policy, calling for countries to observe the principle, with Taiwan often in the limelight when it comes to this issue.
In August, United States Health and Human Services Secretary Alex Azar became the highest American cabinet official to visit the island since Washington cut formal diplomatic relations with Taipei in 1979.
Chinese Foreign Ministry spokesperson Wang Wenbin slammed the move, speaking in a press conference that Beijing "firmly opposes" official exchanges between the U.S. and Taiwan, adding that China has made "stern representations with the U.S. side both in Beijing and in Washington".
He also said Taiwan is an issue of "the utmost importance with the highest level of sensitivity" for U.S.-China relations.
China sees Taiwan as a wayward province awaiting reunification, by force if necessary.
Taiwan has countered China's criticism of the visit, with its Foreign Ministry spokesperson Joanne Ou saying that Taiwan is "a sovereign country", and that China has "no right to object" to Taiwan's interactions with other "like-minded countries".
She added that China should resolve its own domestic issues first before criticising others.
Via Mothership
---