13 June, 202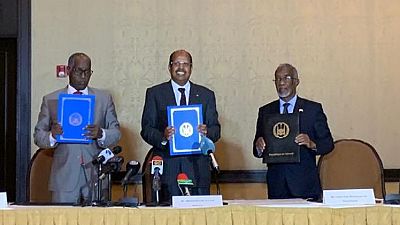 Bihi                                                                                       Farmaajo
Djibouti president confirms Farmaajo – Bihi meeting, Abiy invited
Djibouti president Ismail Omar Guelleh has confirmed the meeting between Somalia and Somaliland leaders. According to him, the two leaders are set to meet on Sunday June 14 in Djibouti.
The date is contrary to earlier reports that the meeting was scheduled to take place in the coming week. Ethiopian Prime Minister Abiy Ahmed is also expected to be part of the meeting.
President Abdullahi Mohamed Farmaajo of Somalia will meet with Somaliland leader Muse Bihi next week in neighbouring Djibouti, multiple sources have confirmed.
The meeting follows an invitation from the Djiboutian president Ismail Omar Guelleh. Reports say there will be representatives from the African and European Unions, United States and Ethiopia joining the meeting.
"Agenda for the summit between the two leaders has not been released but according to sources the two main topics of discussion will be to build confidence between the two sides and start a process that can lead to a negotiated settlement,