The Fugitive TPLF leader
November 29, 2020
Ethiopia's federal police are searching for the leaders of the Tigray People's Liberation Front after government soldiers entered the Tigray regional capital, the prime minster said.
Abiy Ahmed added that Mekelle's capture marked the "last phase" of the three-week conflict – but details are hard to confirm as communications are blocked.
The TPLF leader, meanwhile, vowed to fight on, in a statement to Reuters.
Hundreds have reportedly been killed in the conflict and thousands displaced.
It began earlier this month after Mr Abiy announced an operation against the TPLF, the regional party, accusing it of attacking the Ethiopian army's northern command HQ in Mekelle.
He has consistently described its leadership as a "criminal clique" and said that the police will "bring them to the court of law".
The BBC managed to speak briefly to one contact in Mekelle who said that federal soldiers were in the city and he had heard sporadic gunshots on Sunday morning. Some residents had earlier fled to the city's outskirts, he added.
Meanwhile, the US embassy in neighbouring Eritrea said six explosions were heard in the capital, Asmara, late on Saturday.
Tigrayan forces have previously fired rockets at Eritrea, which they accuse of backing Ethiopian government forces in the weeks-long conflict. It is not clear if the latest incidents in Asmara are linked to the fighting in Tigray.
In a statement on Twitter, Mr Abiy said the army was in full control of Mekelle and that this "marks the completion of the [military's] last phase".
"I am pleased to share that we have completed and ceased the military operations in the Tigray region," he said. The army had released thousands of soldiers taken by the TPLF and was in control of the airport and regional offices, Mr Abiy said, adding that the operation had been carried out with "due care for citizens".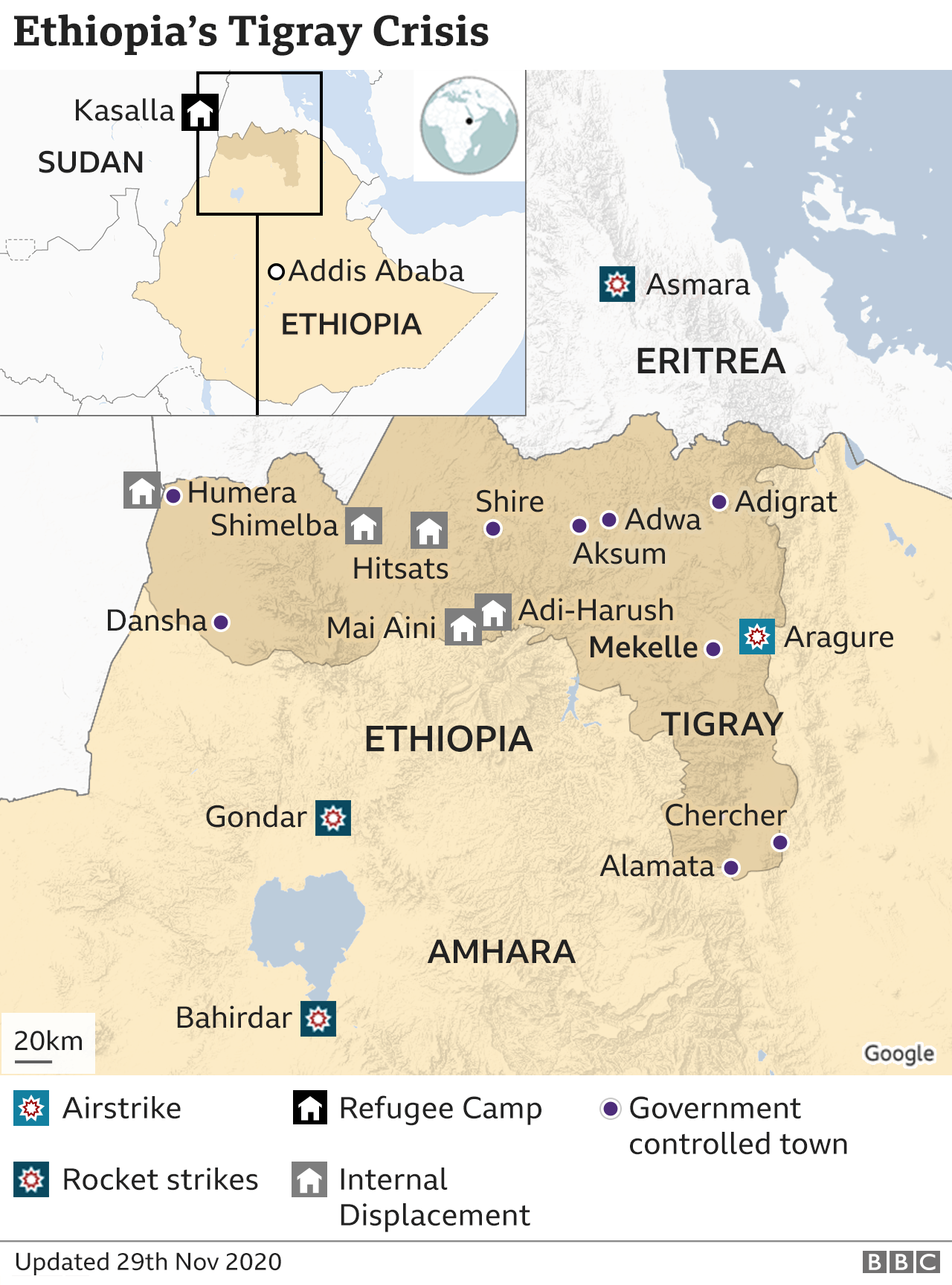 Source: BBC and news agencies