The Russia-Ukraine war served as an important lesson to Europe, jolting it out of its slumber. As the war began, Europe found itself abandoned by its "big brother" USA, and had to fend for itself. This led to a new scramble for African resources, as the war left poor Europe gasping for oil and gas. However, as Africa's geo-strategic importance grows, strong charismatic African leaders have emerged who now speak of "African unity" and envision stronger regional alliances for a prosperous Africa. One such leader is Kenya's William Ruto. It is becoming increasingly interesting to see how a new power struggle has started between Russia and the EU over Kenya.
EU boosts ties with Kenya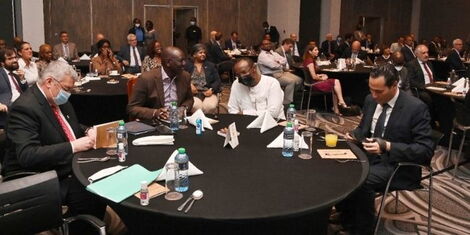 President William Ruto (second left) and David Ndii (centre) and members of the European Business Community at the Village Market on Tuesday, February 15, 2023
According to a recent report, the European Union has initiated trade talks with Kenya to tap opportunities in agriculture, green energy, infrastructure and technology. The upcoming EU-Kenya business forum dubbed as "Trade and Investment Opportunities in Kenya" will focus on trade opportunities."
As we have previously reported, under William Ruto, Kenya has taken significant steps to boost its foreign policy and strengthen ties with African neighbors and other countries. Ruto seeks to enhance Kenya's central role as the anchor for peace, stability, security, and economic prosperity in the region, envisioning a stronger East African Community with Kenya as a central player.
To make this happen, he has diversified partnerships with different countries in the interest of Kenya and its people. Therefore, the attempt of EU to build closer ties with Kenya aligns perfectly with Ruto's long-term vision to change the destiny of Kenya.
Putin-Ursala
The EU is the largest export destination for Kenyan products and the third source of imports. According to the Kenya National Bureau of Statistics, the EU consumes 15 percent of Kenya's total exports. Thus, cooperation with the EU can be mutually beneficial and help Kenya's economy to grow.
Russia plays spoiler to EU's plans
However, the deepening  geopolitical rivalry between the West and Russia, following the Russia-Ukraine war, is expected to pose challenges to the EU's plans as Russia seeks to counter the EU's engagement with Kenya.
The West's military defeat to Russia has left it playing catch-up. Now, after a seemingly evident military defeat handed out by the Russia's mercenary group Wagner in Africa, the EU is looking to step up its economic engagement with Africa. Yet, Russia is also preparing to thwart the EU's efforts.
Recently, the Russian fertilizer producer, Uralchem-Uralkali, announced plans to send a second humanitarian supply of fertilizer from a European Union port to Africa, this time to Kenya, after a previous shipment to Malawi in November. The company has also pledged to donate over 34,000 tonnes of its fertilizers currently stored in Latvia to Kenya. Moscow has also made repeated complaints that the West has been thwarting its attempts to export fertilizers, which many African countries rely on to boost farm yields. Meanwhile, the West allows Ukraine to export a certain amount of grain from its blockaded Black Sea ports. The company said in a statement that "the vessel to transport the fertilizer from Riga in Latvia to Mombasa in Kenya will be chartered by the World Food Programme (WFP) and is expected to be loaded between March 5 and March 15.
As the EU opens trade talks with Kenya, the move by Russia to donate fertilizers to the country appears to be part of its "fertilizer diplomacy" aimed at stopping Kenya from joining the Western camp. This has led to a power struggle between the EU and Russia over Kenya's allegiance. However, it is essential to remember that William Ruto, Kenya's leader, is focused on maximizing the country's economic benefits by forging new ties. Ever since Ruto assumed power he has been on a mission to boost Kenya's foreign policy and play a central role in East Africa as an anchor for peace and prosperity. Thus, Kenya's engagement with the EU must be viewed in this context. But one thing is for sure neither William Ruto nor Kenya is up for Sale