Ahead of his trip to Washington, PM Abdalla Hamdok tells Bel Trew in Khartoum that the Trump administration should de-list Sudan as a state sponsor of terrorism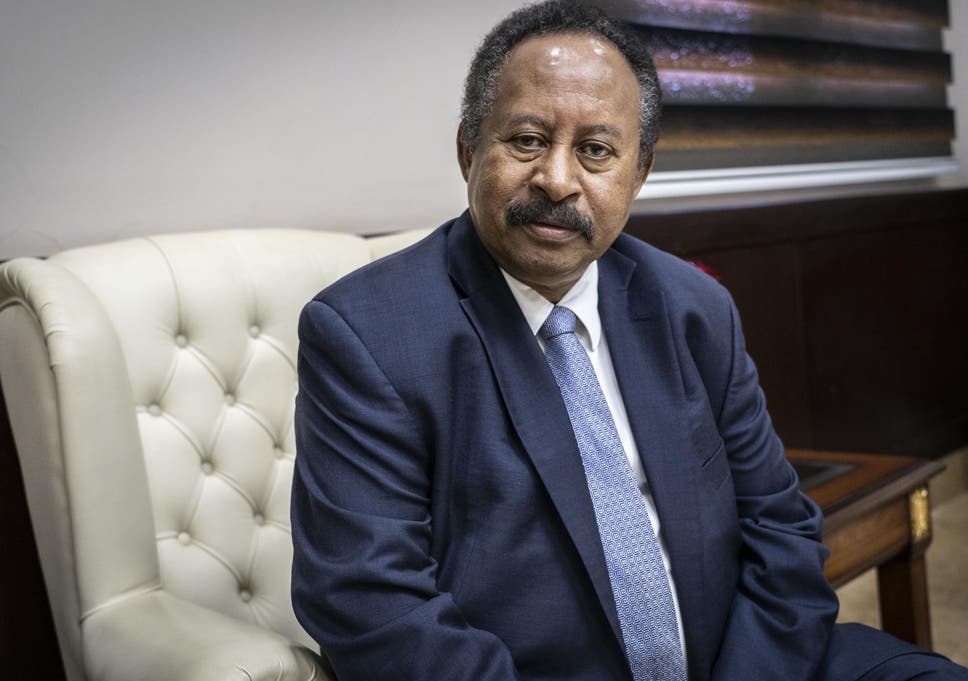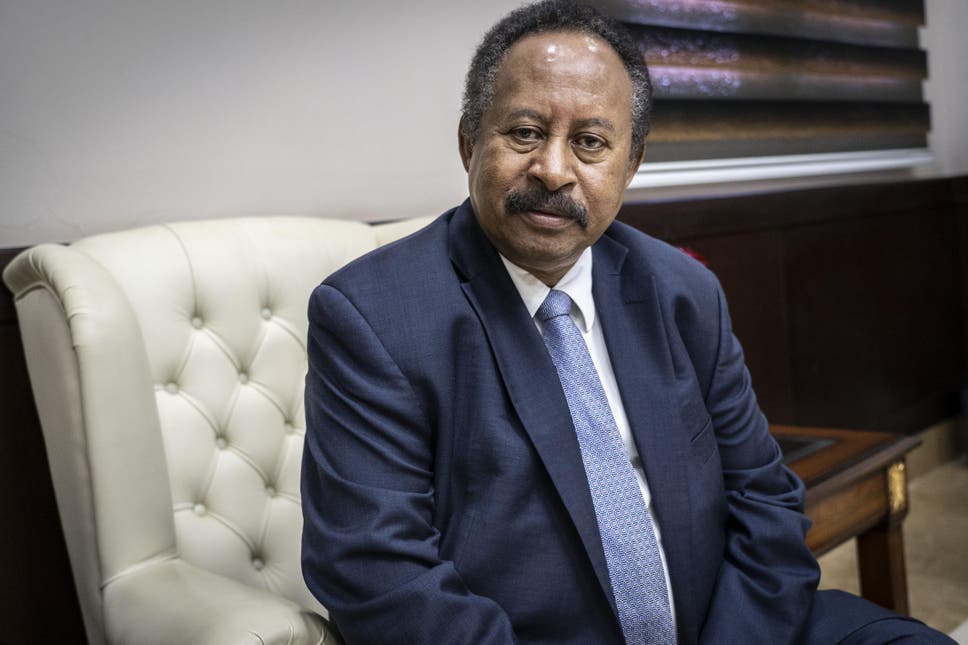 Sudan's new prime minister has said that residual US sanctions are hastening the collapse of the fragile country, warning that, should Sudan become a failed state, the destruction caused by Isis would be "small fry" in comparison.
Speaking exclusively to The Independent before flying to Washington where he is expected to meet President Donald Trump, Abdalla Hamdok urged the US to immediately de-list Sudan as a state sponsor of terrorism.
He said if the intentional community allows Sudan to become a failed state, the ensuing chaos would spawn multiple regional "caliphates".
Washington lifted decades of trade sanctions on Sudan in October 2017 during the rule of former president Omar Bashir, citing progress on counterterrorism and humanitarian access.
But despite a revolution that led to the overthrow of Bashir in April, the terrorism listing and restrictions related to the war-torn region of Darfur remain in place, crippling the economy.
Mr Hamdok, a well respected economist himself, said that the transitional civilian-led authorities had one chance to put the country back on its feet after the uprising, but was struggling to do so while it remained an international pariah.
He said that because of Sudan's unique geopolitical and geographical position, bordering seven countries "in a sea of misery" within North Africa, its breakdown would be devastating.
"Intervening in Sudan … has a very serious impact on the entire region and probably the world.
"The reverse is true. If Sudan is allowed to backslide … it will be a failed state, and you can imagine what will happen," he told The Independent.
"If [Sudan] fails, Isis in Syria will be small fry. We have seven countries with huge lands around us. You are not going have one caliphate – there will be seven of them," he added.
The US named Sudan a state sponsor of terrorism in 1993 under former brutal leader Bashir, who was indicted by the International Criminal Court for genocide and sparked the ire of western states for playing host to terrorists such as Osama Bin Laden in the 1990s.
As relations improved, Washington began a formal process to de-list Sudan in January 2017, but this was put on hold when Sudan's mass protests erupted last year.
The uprising eventually forced Sudan's military into a power-sharing agreement with civilians.
Despite lauding these changes, the US has yet to budge on the listing, which has locked the economy in a stranglehold, making it next to impossible for businesses to operate in dollar transactions, to work with foreign banks and access loans from international institutions.
Sudanese officials have repeatedly complained of the slow response from western governments over the issue of sanctions.
In September, Mr Hamdok said he was expecting a "big breakthrough", but so far, nothing has changed.
He is set to land in Washington on Sunday accompanied by his foreign, justice, defence and sports ministers. There he is expected to meet President Trump to press the issue of the terrorism listing.
The uprising erupted in December last year in part because of Sudan's dire economic situation – including soaring food prices and high unemployment.
Months on, there have been some small signs of progress, such as the opening of American fast-food chain KFC for the first time. But the country is tense.
Widespread shortages of fuel, bread and medicine remain a major issue: outside bakeries across the country there are still long queues of people waiting for loaves.
Protests over the bread and fuel shortages in the troubled region of Darfur even resulted in deadly clashes with the security forces in September.
Meanwhile, inflation has hit 60 per cent, according to a recent report published by state news agency SUNA. It is expected to rise.
Some economists believe the crisis is in part sparked by the authorities printing money to maintain unwieldy fuel and bread subsidies that it cannot afford.
A pertinent example of this is playing out in the capital's shopping district of Khartoum East, where the streets are lined with black-market money changers holding brick-sized wads of cash.
This month the black-market rate climbed to 82 Sudanese pounds to the dollar, nearly double the official exchange rate.
Local businessmen told The Independent that soaring inflation is just one of a litany of woes that have gone unaddressed since the uprising.
"We are trying to operate businesses while effectively living in the dark ages; nothing has changed," says Mohamed Salah, 48, who works for an agrochemical company importing fertiliser.
Down the street Ahmed Sarouji, 33, runs an electrical shop. He also has to rely on products from China and is unable to buy any goods online.
"The government has one chance to make the revolution work," he said, echoing the prime minister's warnings.
"But if the States doesn't lift the sanctions, this government will fail and if the government doesn't remain, Sudan will not survive. The region will not survive," he added.​
Sudanese economists say that the problem lies with the US's continued state sponsor of terrorism listing. Even though most sanctions were lifted two years ago, investors are still extremely wary of approaching Sudan, fearing penalties.
"No serious investor will take the gamble and invest in a country that is isolated from the international payment system. It has eroded investor confidence. So many good businesses have been shattered and industries reduced to scraps throughout the years," said Hamid E Ali, a Sudanese economy professor at the American University in Cairo.
"The US sanctions will shape the trajectory of this transitional government. If it goes wrong it will take years to reverse the damage," he added.
Sudan is meanwhile one of the most indebted countries in the world, owing $60bn (£46bn) in foreign debt with no means of paying it back.
Gulf countries have channelled some funds into the country post-revolution but last month Prime Minister Hamdok said Sudan needs a further $8 billion in foreign aid over the next two years to avert economic collapse.
He told The Independent that he is counting on Washington lifting Sudan's terrorism designation to clear the way for much-needed investment, as well as loans from the International Monetary Fund and World Bank, which are technically blocked.
"Sudan is a country very rich (in resources) – we don't need to live on grants from anyone. But lifting the sanctions would open this country for investment," he told The Independent.
"Right now, we can't move on investment, we can't move on debt restructuring and that is key to everything else, [including] relationships with international financial institutions."
He said the country cannot resume lending having "serious far-reaching implications and repercussions to the progress we could make in the country".
"No one will touch us," he added.
US officials have said privately the relationship between the civilian authorities and the military forces, which heads up the sovereign council, is a point of concern.
One of the main worries lies with the role of Sudan's powerful Rapid Support Forces.
Rights groups have accused the paramilitary group, which was recently absorbed into the army, of leading a brutal attack on an anti-government sit-in in Khartoum on 3 June.
As many as 120 people were killed according to Human Rights Watch, which said forces raped, stabbed, shot at and beat protesters before dumping bodies in the Nile.